Software projects often overrun or expose the organisation to substantial risk due to poor requirements.
Avec has partnered with
ScopeMaster®

, an intelligent software requirements analyser.

ScopeMaster® reads user stories like a human and performs time-consuming analysis work for you. It parses, interprets, tests, cross-references, sizes and then reports on many aspects of your user stories.

ScopeMaster® will find, and help you fix, typically 30 – 60% of all requirements issues, which is approximately 10% of all project defects.
It will find potential problems such as ambiguities, duplicates, omissions, inconsistencies and complexities. ScopeMaster® is also the first technology ever to fully automate functional sizing from requirements. 
The impact of

mistakes

made early on in projects if not addressed are

amplified

in terms of their impact – one incorrect word in a user story is likely to negatively affect ~125 "code" words.

Missing requirements

can sometimes

outnumber stated requirements

meaning that a project could easily end up being twice its original size, cost more than twice the initial estimate and take more than twice as long to deliver.

Poor

quality

requirements

generates waste and rework

that can threaten the success of a project: ambiguous, duplicate, inconsistent requirements can add significant risk.
ScopeMaster optimises requirements and ensures:
Faster Delivery

Reduced Re-work

Better Quality

Reduced Project Risk
Fewer Bugs

Lower Cost

Happier Teams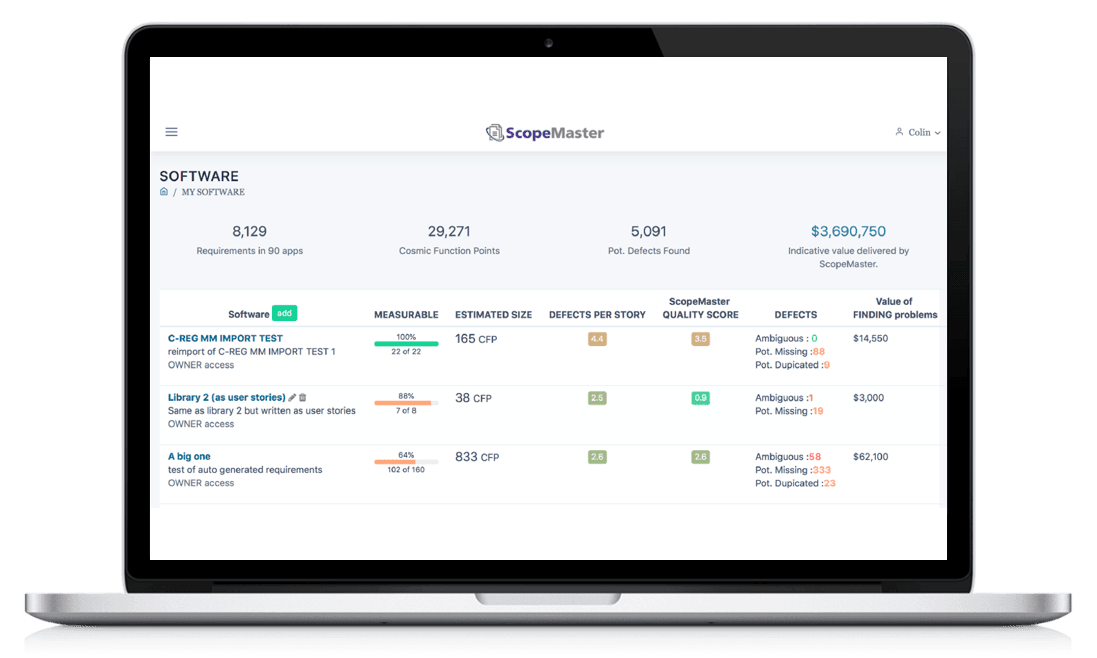 In addition to the specific benefits offered by ScopeMaster, AVEC integrates its outputs into other mechanisms to address the following challenges:
Architecture/ Design

Purchased Hardware

Purchased Software

Software/ Database Services

End User Services
Infrastructure Services

Facilities

Training

Service Desk Components

User Documentation